A strife specibus available on the Overseer Project.
Base Items
Edit
Chainsaw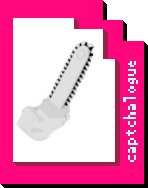 An actual chainsaw, for the suckers/lumberjacks who couldn't settle for a punny flying guillotine.
Code: dH4Dnb!?
Strength: 10
Aggrieve: -5
Aggress: -5
Assail: -4
Accuse: -4
Abjure: -5
Abstain: -5
Abstratus: Chainsawkind
Cost: 12 Build Grist, 6 Tar
Alchemized Items
Edit

TurnsavvvvvvEdit
This chainsaw lets you drop sick beats while killing enemies!
Code: 4009n180
Strength: 48
Abstratus: Chainsawkind
Cost: 75 Build Grist, 11 Jet, 70 Shale, 75 Uranium, 7 Garnet
The Shining Slicer
Edit
A glimmering chainsaw made of pure gold. This thing looks impossible to break.
Abstratus: chainsawkind
Cost: 20 Gold, 5 Tar
Spectrum Slicer
Edit
A multicolored chainsaw. You're pretty sure that's paint on the blade. But it could be blood. That's what you want to think. Since blood would be cool.
Cost: 58 Build Grist, 56 Blood
Uranium Chainsaw
Cleave your enemies in two with SCIENCE.
Strength: 30
Abstratus: chainsawkind
Benidiction of Nrub'yiglith
Edit
Because the Elder God's view of kindness is to facilitate rampant destruction and chaos - and what better instrument than a chainsaw?
Code: 

dH4jzj!?

Strength: 333

Cost: 16666 Build. 6666 Blood. 666 garnet. 6666 Jet. 6666 Tar.

Abstratus: Cainsawkind
The Great Communicator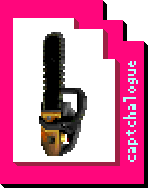 This chainsaw allows you to communicate to underlings your desire to have their grist
Code: !JTztl!!
Strength: 800
Assault: 90
Accuse: -20
Abjure: -60
Abstain: -120
Abstratus: chainsawkind
Cost: 162000 Blood, 31000 Caulk, 94000 Tar

Shadow King's Chain-Spear
Not to be confused with the chain spear, this is a shadow rod with a chainsaw at one end, and instead of teeth, mighty royal spearheads that only the shadow of King Arthur could be mad enough to create.
Code: 0101m0d2
Strength: 1874
Aggrieve bonus: 125
Aggress bonus: 125
Assail bonus: 125
Assault bonus: 125
Abuse bonus: 75
Accuse bonus: 75
Abjure bonus: 75
Abstain bonus: 75
Abstratus: chainsawkind, spearkind
Cost: 199800 Obsidian, 299700 Shale
Ghoulshredder
Edit
Apocalyptia has NOTHING on these shears - patterned in the dust color of the Capital Wasteland, and more dangerous than any irradiated animal YOU'VE ever seen, this oversized pair of chainscythe-shears is a must-have for anyone who likes dangerous things.
Code: Y044HW0K
Strength: 82
Assail: 7
Assault: 8
Abjure: -4
Abstain: -7
Abstratus: chainsawkind, scythekind, shearkind
Cost: 100 Build Grist, 50 Amber, 50 Blood, 50 Iodine, 50 Jet, 5 Titanium
Gorechild
Edit
Code: YYlzpvv!
Power: 1500
Aggrieve: +50
Assail: +100
Assault: +450
Abuse: +500
Accuse: +150
Abjure: +100
Abstain: +50
Abstratus: chainsawkind, axekind
Cost: 25000 Blood, 25000 Rust, 25000 Sulfur, 25000 Tar, 25000 Titanium
Ad blocker interference detected!
Wikia is a free-to-use site that makes money from advertising. We have a modified experience for viewers using ad blockers

Wikia is not accessible if you've made further modifications. Remove the custom ad blocker rule(s) and the page will load as expected.